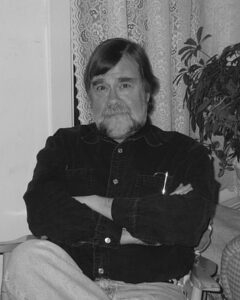 Michael Raleigh is a lifelong Chicagoan and the author of eleven novels, most recently POE STREET. He grew up on the north side of Chicago, spending the first 11 years in the neighborhood around old Riverview amusement park, a neighborhood that is the setting for his novel IN THE CASTLE OF THE FLYNNS.
Michael attended DePaul University, where he received a bachelor of arts degree, majoring in English literature, with a minor in American history.
He did his graduate work at Michigan State University, where he received a Master's in English, specializing in Medieval Literature. His master's thesis was on the subject of the legend of Merlin in the Arthurian cycle. It was at MSU that he also received training as a teacher of English as a Second Language.
After graduate school, Michael taught part-time at DePaul University and the City Colleges of Chicago. Eventually he went to work for the City of Chicago's Model Cities Program, an anti-poverty program, doing extensive field work in impoverished neighborhoods and eventually running youth employment programs.
He went back into teaching in 1979, and in 1980 took a position at Truman College in Chicago where, for twenty-eight years he taught English as a Second Language, Freshman composition, Literature, and the History of Chicago (a subject which, over the years, has become a favorite of his and the source of several of his library programs).
During the 1970's and 1980's, Michael wrote short stories and poetry, and some of his early work appeared in such literary magazines as the Southern Humanities Review and the Kansas Quarterly. He also received four Illinois Arts Council grants for fiction writing.
Michael has been a bank teller, a bartender, a grant writer for the Salvation Army, an office manager, a microfiche technician, and a punch press operator. He currently teaches in the Freshman Writing Program at DePaul University, and he writes.
He has been married for 42 years to his wife Katherine, and they have three children.
"I have been asked to speak at dozens of neighborhood and community libraries in the Chicago area and in southern Wisconsin. Speaking to groups about my writing, indeed, about any aspect of writing and publishing has been one of the most enjoyable aspects of becoming a published writer."
B O O K S: Poe Street (Level Best Books, 2023) Murder in the Summer of Love (Epicenter Press 2021) Peerless Detective (Diversion Books, 2018) The Conjuror's Boy (Harvard Square Editions, 2012) In the Castle of the Flynns (Sourcebooks, 2002) The Blue Moon Circus (Sourcebooks, 2003) The Paul Whelan mystery series: Death in Uptown (St. Martin's Press, 1991) A Body in Belmont Harbor (St. Martin's Press, 1993) The Maxwell Street Blues (St. Martin's Press, 1994) A Killer on Argyle Street (St. Martin's Press, 1995) The Riverview Murders (St. Martin's Press, 1997)