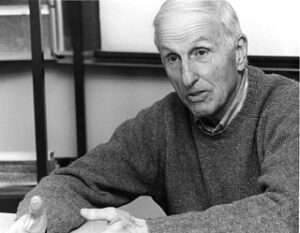 In September 1999, Alexander Polikoff stepped down as Executive Director of BPI (Business and Professional People for the Public Interest), a Chicago-based public interest law and policy center, having held that position for 29 years. He continues to serve on the BPI legal staff, and retains responsibility for BPI's ongoing Gautreaux public housing litigation as lead counsel for the plaintiff class.
Before coming to BPI in April 1970, Polikoff was a member of the Chicago law firm of Schiff Hardin & Waite. He received his bachelors and masters degrees from the University of Chicago (the latter in English language and literature), and a J.D. from the University of Chicago Law School, where he was editor-in-chief of the Law Review.
Polikoff has served as a director and General Counsel of the Illinois Division of the American Civil Liberties Union, and is a former national ACLU board member. For both BPI and ACLU he has carried on litigation in the housing, civil rights and environmental fields, including a successful argument before the United States Supreme Court in the Gautreaux litigation.
Polikoff is the author of a number of articles on civil liberties and urban affairs and of Housing the Poor: The Case for Heroism (Ballinger, 1977). Waiting for Gautreaux: A Story of Segregation, Housing, and the Black Ghetto, is scheduled for January 2006 publication by Northwestern University Press.
Books:
Waiting for Gautreaux: A Story of Segregation, Housing, and the Black Ghetto, Northwestern University Press, 2006, $29.95, 0-8101-2344-4
On his thirty-ninth birthday in 1966, Alexander Polikoff, a volunteer ACLU attorney and partner in a Chicago law firm, met some friends to discuss a pro bono case. Over lunch, the four talked about the Chicago Housing Authority construction program. All the new public housing, it seemed, was going into black neighborhoods. If discrimination was prohibited in public schools, wasn't it also prohibited in public housing?
And so began Gautreaux v. CHA and HUD, a case that from its rocky beginnings would roll on year after year, decade after decade, carrying Polikoff and his colleagues to the nation's Supreme Court (to face then-solicitor general Robert Bork); establishing precedents for suits against the discriminatory policies of local housing authorities, often abetted by HUD; and setting the stage for a nationwide experiment aimed at ending the concentration–and racialization–of poverty through public housing. Sometimes Kafkaesque, sometimes simply inspiring, and never less than absorbing, the story of Gautreaux, told by its principal lawyer, moves with ease through local and national civil rights history, legal details, political matters, and the personal costs–and rewards–of a commitment to fairness, equality, and justice. Both the memoir of a dedicated lawyer, and the narrative of a tenacious pursuit of equality, this story–itself a critical, still-unfolding chapter in recent American history–urges us to take an essential step in ending the racial inequality that Alexis de Toqueville prophetically named America's "most formidable evil."