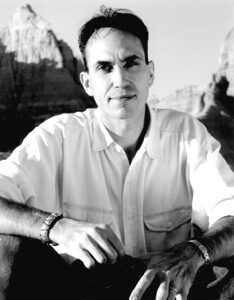 Paul McComas was born and raised in Milwaukee. He received his BA in English at Lawrence University in Appleton, WI, and his MA in Film at Northwestern University in Evanston, IL.
Paul's short fiction has appeared in numerous literary magazines, and he is the author of two critically acclaimed books: a novel, Unplugged (2002, John Daniel & Co.), and a short story collection, Twenty Questions (1998, Fithian Press), now in its third printing. He also edited and contributed to the fiction anthology First Person Imperfect (2003, iUniverse, Inc.) and wrote the Foreword for Logan's Run author William F. Nolan's short story collection, Ships in the Night (2004, Capra Press). Paul currently is writing a comedic coming-of-age novel, Planet of the Dates.
Paul teaches fiction writing both in his own workshop-style class and through the non-degreed adult continuing-ed program at Northwestern, and he has been a Visiting Artist at 20 universities, academies, and performing-arts high schools across the country.
He has served on the Editorial Board of Open Hands, the ecumenical quarterly magazine of the Welcoming Movement (working for les-bi-gay-trans inclusion) in the Christian church, and he has been the Associate Editor of the literary magazine "The Awakenings Review" (comprising work written by people living with mental illnesses, their family members and their allies) since its founding in 2000.
Since 1987, he has presented his performance art and monologues at more than 70 theaters and performance-art venues from Anchorage to New York, including the Bowery Poetry Club in New York City, Chicago's Around the Coyote Fall Arts Festival (1998, 2003 [receiving the "Chicago Reader's" "Critic's Choice" in 2003]) and N.A.M.E. Gallery (1988, 1996), and twice at the International Performance Art Festival (1990, 1996).
Paul's films and videos have been screened at film festivals worldwide, receiving awards from the Alliance for Community Media (2003), the American Film Institute (1993), the Association of Cinematic and Video Arts (1992), the San Francisco Poetry Film Festival (1992), the Illinois Community Television Competition/Chicago Access Corporation (1987) and the Photographic Society of America (1986). His work has been broadcast on public and cable television.
He served for six years (1995-2001) on the board of his local Mental Health Association (MHA) chapter, where he cofounded its Youth Advisory Committee. A bass player and singer/songwriter, Paul founded and ran Rock Against Depression (1995-99), a teen-suicide-prevention program that utilized Nirvana tribute concerts both to honor the work of Kurt Cobain and to educate his fans about depression. Paul is the recipient of an MHA Distinguished Service Award.
Paul's original music has appeared on the indie alt-rock compilation "Insects Under the Big Foot" (Philistine Records, 1993), "Paper Tiger #02" (New World Poetry, Australia, 2000), and Bridge Magazine's Insert CD (Vol. 1, No. 3, 2001), as well as on the self-produced and -released "Dayna Clay: Words & Music from Unplugged," a 2002 companion CD to his novel. Net proceeds from "Dayna Clay" ($950 to date) benefit the Rape, Abuse & Incest National Network and the Badlands Natural History Association.
Paul has received grants from the Illinois Arts Council, the Evanston Arts Council, and Northwestern University. He has lived in Evanston since 1983.