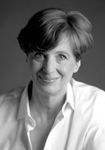 Carol Felsenthal is the author of unauthorized biographies of Washington Post owner Katharine Graham (currently being developed into an HBO movie), Conde Nast owner and chairman Si Newhouse, and the most famous and infamous of presidential children, Alice Roosevelt Longworth.
Her latest book, Clinton in Exile: A President Out of the White House, will be published on April 22, 2008 by William Morrow/Harper Collins.
Her appearances can be tracked through her HarperCollins web page: www.harpercollins.com/authors/31892/Carol_Felsenthal/index.aspx
She is also a regular contributor, mostly of definitive profiles, to Chicago magazine. Recent subjects include Roger Ebert, Ann Landers, Irv Kupcinet, Don Rumsfeld, Rod Blagojevich, Bill Daley.
She has taught a course titled "Writing Profiles" to college and graduate students at the University of Chicago.
She has given speeches around the country and abroad on the subject of her experiences writing about some of the country's richest and most powerful people, and she has appeared on scores of television and radio shows.
Reviews of her books and details of her speaking engagements can be easily found on her web site, www.carolfelsenthal.com.
She and her husband, Steve, are the parents of three children and live in Chicago.