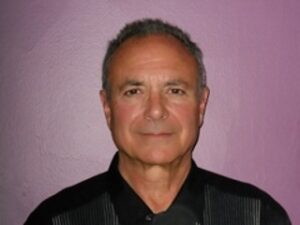 A filmmaker, journalist and author, Dan Dinello wrote his third book Children of Men in 2019. Published by Liverpool University Press [Europe] and Oxford University Press [U.S.], Children of Men investigates Alfonso Cuarón's 2006 dystopian, science fiction film masterpiece of the same name. His other two books are Finding Fela: My Strange Journey to Meet the AfroBeat King – a memoir of a 1983 trip to Lagos, Nigeria, to film African musical legend Fela Kuti; his first book is Technophobia! Science Fiction Visions of Posthuman Technology (University of Texas Press, 2007) — the book interprets the history of science fiction in terms of its perspective on 21st century technology, such as A.I., biotechnology, nanotechnology and robotics.
In addition, Dan contributed chapters to Westworld and Philosophy (2018), The Who and Philosophy (2016), The Ultimate Star Trek and Philosophy: The Search for Socrates (2016), Avatar and Philosophy: Learning to See (2014) The Culture and Philosophy of Ridley Scott (2013), The Rolling Stones and Philosophy (2012), Philip K. Dick and Philosophy (2011), Battlestar Galactica and Philosophy (2009) and Anime and Philosophy (2010).
He's also written over 250 articles for various publications including The Chicago Tribune, Alternative Press, Salon.com, and the Manchester Guardian. Most recently, he's published political articles for the Website Informed Comment.
Professor Emeritus at Columbia College Chicago and a DGA member, Dan directed episodes of the Comedy Central Television show Strangers With Candy as well as several award-winning short films – all starring Stephen Colbert (The Late Show, The Colbert Report), Paul Dinello (The Late Show, At Home with Amy Sedaris), and Amy Sedaris (At Home with Amy Sedaris). An all-state football player at Oak Park's Fenwick HS, Dan went to the University of Illinois on a football scholarship & graduated with a degree in Philosophy, then went on to acquire an MFA from the University of Wisconsin.