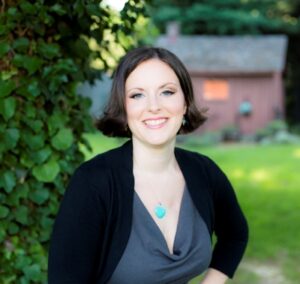 Amelia Cotter is an author, poet, and storyteller with a special interest in the supernatural, history, and folklore. Her books include Where the Party Never Ended: Ghosts of the Old Baraboo Inn, This House: The True Story of a Girl and a Ghost, Maryland Ghosts: Paranormal Encounters in the Free State, the children's book Breakfast with Bigfoot, and the poetry collection apparitions.
 Amelia's award-winning poetry and short fiction explore themes of anxiety, isolation, and trauma, often incorporating supernatural elements. Her work has appeared in journals like Barren Magazine, Frogpond, Modern Haiku, The Heron's Nest, tinywords, and many others. Amelia is also a frequent contributor to Haunted Magazine, The Feminine Macabre, and Troy Taylor's The Morbid Curious. 
Amelia has appeared on various radio and television programs, including Travel Channel's Hometown Horror, and in the documentaries Scary Stories and Tinker's Shadow: The Hidden History of Tinker Swiss Cottage. She also appeared as a regular cast member on Really Channel's The R.I.P. Files. 
Amelia lives and writes in Chicago but is originally from Maryland, where she earned a degree in German and History from Hood College. She regularly presents at conferences and events. In 2020, the 10th anniversary edition of This House: The True Story of a Girl and a Ghost received the Higgypop Paranormal Entertainment Awards Gold Winner award for Best Paranormal Book. In 2023, apparitions was shortlisted for The Haiku Foundation 2022 Touchstone Awards for Distinguished Books as well as nominated for the Eric Hoffer Book Award.  
Together with her husband, recording engineer and photographer Jonathan Montgomery Pollock, Amelia also owns Amelia's DragonGoddess Boutique, a small online store offering handmade incense blends and other magickal items. Visit her official website at www.ameliacotter.com or write to her any time at [email protected].
 Amelia is available to speak to audiences of all ages on a variety of topics related to the supernatural, history, folklore, and writing. To schedule Amelia for an appearance or interview, contact her at [email protected].