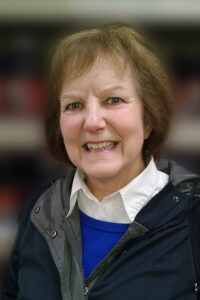 "To me, research and writing are part of an endless treasure hunt that leads to many pots of gold. I never know what I might uncover during my search or exactly how it will unfold into a story."
Marlene Targ Brill has been creating children's books for many years. She started writing while teaching children with disabilities, producing materials to help her students learn. With time, the desire to write grew stronger. Soon she was writing for a variety of formats- magazines, newspapers, newsletters, videotape, and textbooks-developing materials for
readers of all ages.
Today, Marlene is author of more than 70 books for children and adults. She has received several honors for writing and is included in vols. 77 and 124 of Something About the Author. Yet, she never forgets where her first dream of writing originated-through her work with children. Just as Marlene was drawn into writing, she is now drawn back into the classroom. This time, she tells kids and adults about the wonders of research, writing, and of course,
books.
Selected Titles:
Dolores Huerta Stands Strong: The Woman Who Demanded Justice (Ohio University Press, 2018)
"A biography for the times. . . Brill paints a vivid picture of her subject and calls attention to a civil rights leader who has often been overshadowed by her male counterparts even as she fought sexism in her own community." Kirkus Reviews (starred review); School and Library Journal starred review; Bank Street Children's Book of the Year, 2018
Picture Girl (Golden Alley Press, 2018)
"… beautifully written, poignant, and realistic. . . never dwelling on the cruelty (of pogroms) but on last-minute escapes and hope." Rabbi Jon Haddon, D.D.
Chronic Illnesses, Syndromes, and Rare Diseases (Roman & Littlefield, 2016)
"This book is recommended because it is unique. It discusses chronic illness from a teenager's perspective. . . ." National Science Teachers Association
Bronco Charlie and the Pony Express (Carolrhoda Books, 2005) …the book is an exciting bit of history that is fun to read." School and Library Journal; 2005 Washington State Beverly Cleary Selection; IRA/CBC Children's Choice
Margaret Knight: Girl Inventor (Millbrook Press, 2001, reprint, 2015)
"This book works on several levels. It is an interesting story as a longer picture book, a great beginning biography, and interesting introduction to scientific method, and an empowering addition to girls' heroines. Library Talk (starred review); 2002 Notable Social Studies Book
Tooth Tales from around the World (Charlesbridge, 1998)
"What a treat! Tales about the tooth fairy from past to present . . . will delight your children." Parent's Council IRA/CBC 'Children's Choice'
Diary of a Drummer Boy (Millbrook, 1998, Golden Alley Press, 2018)
". . . narration allows the power of the story to come through without distraction . . . Brill's book succeeds as fiction, and will have many uses in the history classroom." Kirkus Review; Society of Midland Authors finalist; Scholastic Book Club
selection, NCSS/CBC Notable Social Studies Trade Book for Young People.
Allen Jay and the Underground Railroad (Carolrhoda, 1993)
"Brill does a good job of incorporating basics about the Underground Railroad into her narrative and bringing out its suspense." Kirkus Review; Top 10 social studies choice, 1993, School of Librarians International
Extraordinary Young People (Children's Press, 1996)
"This is the kind of first-rate reference resource that is difficult to put down. An entertaining and inspiring book that deserves to be in every collection." School Library Journal
Other Titles:
Speech and Language Challenges (Rowman & Littlefield, 2014)
Michelle Obama: From Chicago's South Side to the White House (Lerner 2011)
Barack Obama: President for a New Era (Lerner, 2009)
Tourette Syndrome (Millbrook Press, 2002)
25 Most Frequently Asked Questions about Discipline (MightyWords, 2001)
Keys to Parenting a Child with Autism (Barron's Educational
Series, Parent's Choice, rev. 2002) 
Shoes through the Ages (Steck-Vaughn, 2000)
Winning Women in Baseball/Softball (Barron's Educational
Series, 2000) 
Winning Women in Basketball (Barron's Educational Series, 2000)
Winning Women in Ice Hockey (Barron's Educational Series, 1999)
Winning Women in Soccer (Barron's Educational Series, 1999)
Let Women Vote! (Millbrook Press, 1996)
Trail of Tears: The Journey from Home (Millbrook Press, 1994)
Journey for Peace: The Story of Rigoberta Menchu (Lodestar, 1996;
Notable Social Studies Book) 
Indiana (Marshall Cavendish, 1997)
Michigan (Marshall Cavendish, 1998)
AMA Essential Guide to Asthma (Simon & Schuster, 1998)
Small Paul and the Big Bully (ACCH, 1996)
Building the Capital City (Children's Press, 1996)
Illinois (Marshall Cavendish, 1996)
Guyana (Children's Press, 1994)
Keys to Parenting a Child with Down Syndrome (Barron's
Educational Series, 1993)
Honduras (co-author Harry Targ, Children's Press, 1993)
Guatemala (co-author Harry Targ, Children's Press, 1993)
Women for Peace (Franklin Watts, 1991)
Why Do We Have To? (World Book, 1991)
James Buchanan (Children's Press, 1988
John Adams (Children's Press, 1986)
For presentations about writing, publishing a book, researching, and your favorite tooth tales please send e-mail to [email protected].