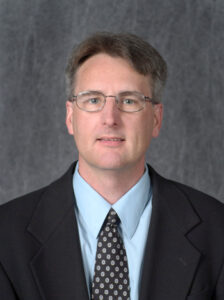 Ray E. Boomhower is senior editor of the Indiana Historical Society's quarterly popular history magazine Traces of Indiana and Midwestern History. Boomhower has been with the Society since 1987, beginning work for the statewide, nonprofit organization as its public relations coordinator.
A native of Mishawaka, Indiana, Boomhower graduated from Indiana University in 1982 with degrees in journalism and political science. He received his master's degree in U.S. history from Indiana University, Indianapolis, in 1995. Before joining the Society staff, he worked in public relations for the Indiana State Museum and as a reporter for two Indiana daily newspapers, the Rensselaer Republican and the Anderson Herald.
Along with numerous articles for Traces, the Indiana Magazine of History, Outdoor Indiana, and other history periodicals, Boomhower is the author of the books Jacob Piatt Dunn, Jr.: A Life in History and Politics, 1855-1924 (Indiana Historical Society, 1997); The Country Contributor: The Life and Times of Juliet V. Strauss (Guild Press of Indiana, 1998); Destination Indiana: Travels through Hoosier History (IHS, 2000); "But I Do Clamor": May Wright Sewall, A Life, 1844–1920 (Guild Press, 2001); "One Shot": The World War II Photography of John A. Bushemi (IHS Press, 2004); Gus Grissom: The Lost Astronaut (IHS Press, 2004); The Sword and the Pen: A Life of Lew Wallace (IHS Press, 2005); The Soldier's Friend: A Life of Ernie Pyle (IHS Press, 2006); Fighting for Equality: A Life of May Wright Sewall (IHS Press, 2007); and Robert F. Kennedy and the 1968 Indiana Primary (Indiana University Press, 2008).