The Society of Midland Authors today announced winners of its 2021 awards for the best books written by Midwest authors and published in 2020.
The winners, one in each of six categories, were chosen by six panels of judges from more than 290 books submitted for the contest.  The judges also selected one or more honorees in each category. The categories are: Adult Fiction, Adult Nonfiction, Children's Fiction, Children's Nonfiction, Biography and Memoir, and Poetry. The annual competition is open to authors who live in, were born in, or have strong ties to Illinois, Indiana, Iowa, Kansas, Michigan, Minnesota, Missouri, Nebraska, North Dakota, Ohio, South Dakota or Wisconsin.
Following are the six winning authors. They each received a $500 award and a recognition plaque. The judges also selected Honored Books in each category, which are listed below.
Plans for a safe event in September to honor this year's winning authors and honorees are underway and will be announced by the SMA board when they are finalized.
Adult Fiction Award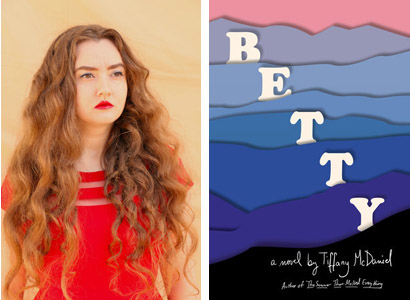 Tiffany McDaniel, who lives in Circleville, Ohio, for her book Betty from Alfred A. Knopf. SMA judge Angela Jackson-Brown reports that, "Betty stood out among the numerous submissions because of its rich and vivid portrayal of a young girl growing up in Appalachia. Betty was both memorable and relatable with phenomenal lines that stay with the reader long after she closes the page, such as the opening line, 'A girl comes of age against the knife.'"

Richard Frisbie Award for Adult Nonfiction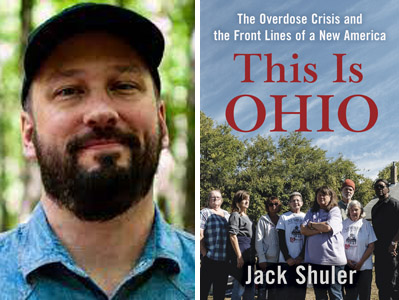 Jack Shuler, This Is Ohio: The Overdose Crisis and the Front Lines of a New America, Counterpoint Press. Shuler, who is from Granville, Ohio, takes a grassroots look at one of the primary hotspots of America's opioid addiction crisis. The SMA judges wrote that "Shuler, by combining quantitative research with engaged listening, exposes and documents the roots of the crisis in income inequality, lack of healthcare, and institutional barriers to change. This Is Ohio personalizes and inspires with stories of local activists and their relentless and creative responses to an overwhelming challenge."

Children's Fiction Award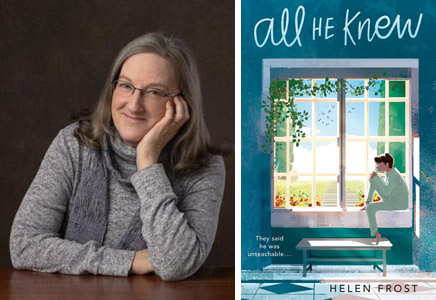 Helen Frost, All He Knew, FSG Macmillan. The author is from Fort Wayne, Indiana. According to the SMA judges, "Frost tells this powerful World War II-era tale through a series of beautifully and simply rendered poems. Inspired by true events, All He Knew is the story of a young boy consigned to a harshly managed institution and the one compassionate soul he meets there, who is performing public service as a conscientious objector. The story remains relatable and timely, exploring issues of disabilities and outsider status."

Children's Reading Round Table Award for Children's Nonfiction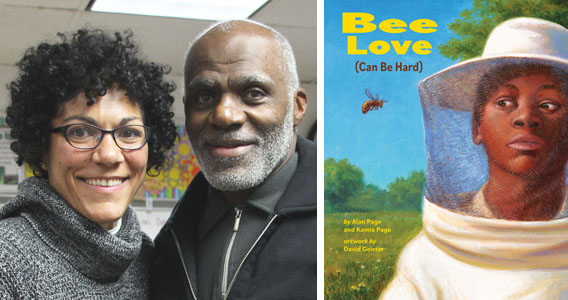 Alan Page and Kamie Page, Bee Love (Can Be Hard), Page Education Foundation. The authors, who live in Minneapolis, Minnesota, have created a book that resides at the boundary of fiction and nonfiction. The authors have embedded solid information about bees along with wisdom about how to face and overcome something that seems frightening. Specifically, Otis, a young boy who is afraid of bees, is comforted and strengthened by his grandfather's advice that the way to overcome a fear of bees is to learn more about them. When they visit a bee farm and learn how bees are kept, Otis dons protective gear and walks safely among them. By the end of the day, Otis becomes a bee protector himself. Young readers will understand the emotions beautifully conveyed through text and illustration, and a brief endnote gives further information, inviting young readers to learn more.

Poetry Award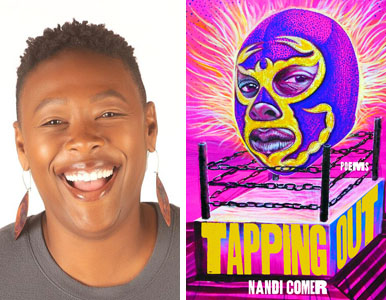 Nandi Comer for Tapping Out: Poems, Northwestern University Press. Grace Bauer, a SMA poetry judge, wrote that "Tapping Out was one of those books that just stayed with me. I found myself thinking of the book long after I'd put it in my 'probably/yes' pile. And it was one I felt compelled to come back to. We've all been thinking a lot about masks this past year, and Comer uses that image and the conventions of Mexican freestyle wrestling to examine issues of identity and the search for belonging–in a body and in a society that judges certain bodies. Comer, who resides in Detroit, Michigan, has written a really stunning first book. The fact that this is Comer's debut collection made it that much more impressive."

Bernard J. Brommel Award for Biography and Memoir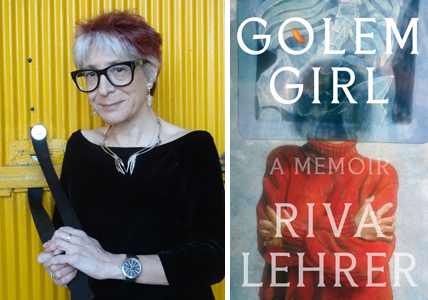 Riva Lehrer, Golem Girl: A Memoir, One World, Penguin/Random House. SMA Biography/Memoir judge Emilio DeGrazia emphasized "that good books inform us. Those we call great, transform us. Lehrer's Golem Girl unsettles the grounds of our thinking while reshaping and enlarging our sense of what it means to be human.  This life story is told with profound intelligence, learning, artistry, courage and honesty." Riva Lehrer lives in the Edgewater neighborhood of Chicago.
Besides award winners, SMA judges selected the following Honored Books in each category:

Adult Fiction Award Honorees

TaraShea Nesbit, who lives in Oxford, Ohio, for her book Beheld from Bloomsbury Publishing. SMA judge William O'Rourke wrote, "this title depicted the first murder that occurred in the Plymouth Colony from the point of view of the women who lived there. The writing is beautiful, and the voices are distinct, compelling, and true. The book gives an alternate but equally important view of issues that brought colonists together and tore them apart, along with a page-turning story."
Kathleen Rooney, a Chicagoan, for Cher Ami and Major Whittlesey from Penguin Books. According to the judges, "Rooney's book is brilliantly original. Inspired by true events and faultlessly researched, the book charts the World War I experiences of Major Whittlesey, an American soldier, and Cher Ami, a messenger pigeon. The writing is beautiful; the brutality of war is real; the characters, compelling. And yes! The pigeon tells its own tale—with astonishing plausibility! It's the kind of book you finish and think, who would even think of this and how in the world did she manage to pull it off?"
Brandon Taylor, for Real Life by Riverhead Books. Taylor, who lives in Iowa City, Iowa, wrote a standout work of fiction because of how the author carefully crafted each sentence, scene, and character. According to judge Barbara Shoup, "this story gave the reader insight into what it might be like for a young, Black, queer man teaching at a Midwestern University. Taylor used an economy of words, everything deliberate, everything precise. He put the human condition underneath a microscope, forcing the reader to stare at it unflinchingly. "

Richard Frisbie Award for Adult Nonfiction Honorees

Marie Mutsuki Mockett, American Harvest: God, Country, and Farming in the Heartland, Graywolf Press. (Author grew up in Nebraska and currently lives in San Francisco.) "Mockett returns to her family's Midwestern roots by joining the summer wheat harvest in a quest for insight into the views of conservative and evangelical farmers," according to the SMA judges. "Her lyrical ruminations examine identity, faith, our relationship to the land, and how Americans connect despite their differences."
Laurence Ralph, The Torture Letters: Reckoning with Police Violence, University of Chicago Press. The judges wrote, "that Ralph, who graduated from University of Chicago and currently lives in Princeton, New Jersey, writes with scholarly care and personal empathy. The author, addresses powerful, eloquent letters to past and future Chicago leaders, to police, and to those who have suffered—or may yet suffer—at their hands. He documents the long-sanctioned Chicago Police Department practice of torturing confessions from black and brown people, an open secret for half a century. Ralph pleads for an end to the use of fear as a means of control."
Maya Schenwar and Victoria Law, Prison by Any Other Name: The Harmful Consequences of Popular Reforms, The New Press. The SMA judges wrote, "Chicagoan Schenwar and New Yorker Victoria Law further document the racial bias behind mass incarceration, showing how popular methods of reducing prison populations—such as long-term electronic monitoring, house arrest, and extended probation—are merely money-saving ways to control marginalized people while restricting their movements, opportunities, and basic freedoms."

Children's Fiction Award Honorees

Heather Dean Brewer, Love Is Powerful, Candlewick Press. The judges said this book "is beautifully illustrated, touching and impactful. Love Is Powerful is empowering for children showing that one voice can make a difference. Brewer is from North Muskegon, Michigan. Her book offers a positive message of social action and is a memorable reading experience for children and parents."
Elizabeth C. Bunce, Premeditated Myrtle, Algonquin Young Readers. The judges wrote, "Plucky, original, and definitely a sleuth to be reckoned with, 12-year-old Myrtle takes readers on an exciting detective journey set in Victorian England. With clever humor and sparkling wit, Bunce (who hails from Lenexa, Kansas.) keeps the pace moving, turns up unexpected surprises, and keeps her audience eager for more clues to be unraveled in future installments."
Amy Timberlake, Skunk and Badger, Algonquin Young Readers. The judges wrote, "who knew a skunk could be so endearing? Filled with charm and humor, Chicagoan Timberlake tells the story of friendship between the unlikeliest of creatures. The delightful droll narrative and whimsical illustrations offer a magic combination emblematic of classic children's literature."

Children's Reading Round Table Award for Children's Nonfiction Honorees

Amy Alznauer, Flying Paintings: The Zhou Brothers: A Story of Revolution and Art, Candlewick Press. This Chicago author, according to the judges, "crafted an appealing biography of two brothers who lived through difficult times during their childhood and youth in the province of Guangxi, China. Upon coming to America as adults, the brothers continue to work together and eventually become world-renowned artists. The Zhou brothers illustrate the book themselves, giving a deeper understanding of their story and their art. An endnote clarifies details of the brothers' childhood and adult lives, and describes the joys and challenges of two artists painting together in such a way that the paintings seem to come alive."
Patricia Hruby Powell, Lift As You Climb: The Story of Ella Baker, McElderry/Simon & Schuster. Powell is from Champaign, Illinois. The judges wrote that "Ella Baker was an important figure in the Civil Rights movement. Because she was a woman, and women of her era are often overlooked or overshadowed, she has not received as much attention as her life and work deserve. In this engaging book, her story is brought to life, illuminating history in a new way. An author's note, timeline, bibliography, and other additional information demonstrates the thorough research that went into this book encourages young readers to learn more."
Poetry Award Honoree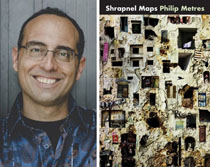 Philip Metres for Shrapnel Maps, Copper Canyon Press. Metres is from University Heights, Ohio. According to judge Grace Bauer, Philip Metres gives us a poet's-eye-view of the troubles in the Middle East. For him, these stories are personal as well as political, familial, and historical. Combining the language of official documents with lyrical, narrative, and more fragmented experimental poems, Metres takes us into the day-to-day lives and living of the place and its peoples. He takes us, as Naomia Shihab Nye says, "into the soul of Palestine."

Bernard J. Brommel Award for Biography and Memoir Honorees

Craig Fehrman, Author in Chief: The Untold Story of Our Presidents and the Books They Wrote,Simon & Schuster/Avid Reader Press. Fehrman is from Bloomington, Indiana. The judges wrote that Author in Chief is "a well-researched and well told history of presidential biographies, full of insights about how our views of leadership are framed for public viewing. In sequences that contextualize the lives of presidents within their literary currents, Fehrman shows how the writing of presidential lives has evolved, or devolved, into commercial enterprises presided over by well-heeled publishers and ghost writers keen to exploit the rewards of a culture governed by celebrity."
Miles Harvey, The King of Confidence: A Tale of Utopian Dreamers, Frontier Schemers, True Believers, False Prophets, and the Murder of an American Monarch, Little, Brown and Company. Harvey lives in Chicago. Judge Elizabeth Hellman wrote that "King of Confidence was a breath of fresh air as far as biographies go. The writing is flowing, amusing without being ridiculous. Harvey painted a world I was eager to know more about. It probably isn't respectful to call this a romp, but I mean it in the very best sense of the word. I couldn't put it down."
Carolyn Holbrook, Tell Me Your Names and I Will Testify: Essays, University of Minnesota Press. According to the SMA judges, "Holbrook's memoir, frank and compelling, testifies to the influence skin color and the troubles that haunt it, have on families struggling to achieve meaningful and productive lives. The hard facts of Holbrook's life in St. Paul, Minnesota, as woman, mother, wife and ex-wife, employee, community activist and arts administrator are presented without self-pity as they unfold against her deeper story of trying to achieve the creative life of a writer. Hers is a troubled story that concludes with a type of success at once exemplary and important to American life."

Coordinator and Judges
The coordinator of this year's contest was Marlene Targ Brill. Following are the judges for this year's contest:
Adult Fiction: Angela Jackson-Brown, author poet, and playwright who teaches at Ball State University in Muncie, Indiana; William O'Rourke, author, editor, emeritus English professor at University of Notre Dame; Barbara Shoup, author, Writer-in-Residence at Indiana Writers Center and faculty member at Art Workshop International.
Adult Nonfiction: Joseph Gustaitis, author, writer, former humanities editor of Collier's Encyclopedia, television writer; Michael Fedo, author, contributor to major publications; Carol Saller, author, editor, writer trainer/blogger.
Children's Fiction: Amelia Cotter, author, poet, storyteller; Laura Hirshfield, retired Reader's Services Librarian at the Evanston Public Library, visual artist of cloisonné enameling and collage; Anne O'Malley, retired high school librarian, reviewer of teen and young adult books for Booklist, the American Library Association's review journal, former editor in children's and educational publishing.
Children's Nonfiction: Judith Schein Cohen, graduate educator, literacy supervisor at University of Illinois, Chicago, writer of educational materials, grade and high school teacher; Helen Frost, author, poet; Artika Tyner, educator, author, a civil rights attorney, founder/CEO of Planting People Growing Justice Press and Bookstore.
Poetry: Grace Bauer, author, poet, essayist; David Radavich, author of books, plays, and poems; Chris Abani, poet, playwright, novelist, Northwestern professor.
Biography and Memoir: Emilio DeGrazia, founded Great River Review in 1977, editor, author, poet; Libby Fischer Hellmann, broadcast news writer, author of crime fiction; Bob Remer, president of the Edgewater Historical Society and Museum and founding publisher of Chicago Books in Review, acting commissioner and deputy commissioner of the Chicago Public Library.
More about the Society of Midland Authors
The Society of Midland Authors (SMA) was founded in Chicago in 1915. Its annual book awards have been given out since 1957. Notable past winners have included Saul Bellow, Studs Terkel, Kurt Vonnegut, Gwendolyn Brooks, Mike Royko, Jane Smiley, Dempsey Travis, Leon Forrest, William Maxwell, Louise Erdrich, Scott Turow, Alex Kotlowitz, Aleksandar Hemon, Stuart Dybek and Roger Ebert. (Read a list of our past award winners.)
In recent years, SMA held an annual dinner, which included presentations of the awards and comments by the winning authors. It was usually scheduled for the second Tuesday in May at the historic Cliff Dwellers Club in Chicago.
This year, as in 2020, the annual dinner will be postponed due to the COVID-19 pandemic. It is the third time in SMA history that the dinner will not be held because of a pandemic. Three years after Midland Authors founding, the 1918 annual dinner was cancelled because of a flu outbreak, which lasted for two years and killed 20 to 50 million people worldwide—675,000 of them in the United States.