The Society of Midland Authors today revealed the winners of its 2020 awards for the best books written by Midwest authors and published in 2019, and announced that its annual awards dinner has been canceled due to the COVID-19 pandemic.
The dinner, which features presentations of the awards and comments by the winning authors, had been scheduled for May 12 at the historic Cliff Dwellers Club in Chicago. Instead, the winning authors and finalists in six categories will be recognized at a reception at this year's rescheduled Printers Row Lit Fest on September 5.
The Society of Midland Authors was founded in Chicago in 1915. Three years later its 1918 annual dinner was canceled because of the flu pandemic that began that year. That flu outbreak, which lasted for two years, killed 20 to 50 million people worldwide—675,000 of them in the United States.
A total of 306 books were entered in this year's contest. Panels of literary judges did not meet in person but convened electronically and by phone to choose a winner and one or more honorees in these six categories: Adult Fiction, Adult Nonfiction, Children's Fiction, Children's Nonfiction, Biography and Memoir, and Poetry. The juried competition is open to authors who live in, were born in, or have strong ties to Illinois, Indiana, Iowa, Kansas, Michigan, Minnesota, Missouri, Nebraska, North Dakota, Ohio, South Dakota or Wisconsin.
Adult Fiction Award
Winner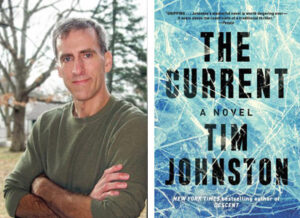 Tim Johnston, who lives in Iowa City, Iowa, for his book, The Current: A Novel, published by Algonquin Books. Judge Jonis Agee wrote, "In this extraordinary novel, the reader is immediately impressed with both the lyricism and detail of the writing as it engages both setting and the characters, as well as the intricately woven tale of crimes past and present, that plague a small Minnesota town. The writing in this book is so alive and original that it transcends the ordinary world and lets the reader gain access to another plane altogether." timjohnston.net
Honored Books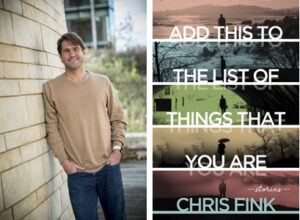 Chris Fink, Add This to the List of Things That You Are, University of Wisconsin Press. (Author lives near Beloit, Wisconsin.) Judge Lynn Sloan wrote, "In this excellent collection, Chris Fink probes with laser-sharp insight, humor and tender mercy the psyche of Midwestern men today. Whether set at a Wisconsin pig roast, Finland, Milwaukee or a trailer park in Arizona, these stories tell of men dislocated from what once made sense in relationships, identity, honor, and they pack a punch that lingers." finkc.com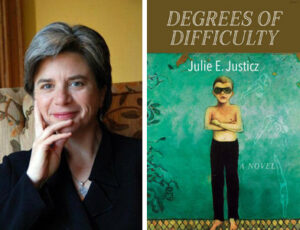 Julie Justicz, Degrees of Difficulty, Fomite Press. (Author lives in Oak Park, Illinois.) Judge Jonis Agee concluded, "This novel of childhood and family gives the reader a tremendous satisfaction in the making of a well-told story, full of nuance, struggle and transcendence. Justicz possesses tremendous talent as a writer who pulls the curtains open on human longing and the struggle to be known and to know oneself. Her prose sings, and the song is well worth learning. I look forward to every book she publishes in years to come." juliejusticz.com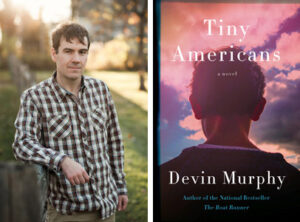 Devin Murphy, Tiny Americans: A Novel, Harper Perennial. (Author lives in Chicago.) Judge Jonis Agee wrote, "The construction of this novel is a thing of beauty, shifting restlessly between the protagonists until the final resolution when we see the ultimate outcome of the inherited damage of family through time. Murphy is an original writer who has immense insight into the human psyche and the depths of dream and desire, the place where each of keeps guard over our secret past, our darkest wounds. His limitless imagination makes every journey with his characters well worth it." devinmurphyauthor.com
Richard Frisbie Award for Adult Nonfiction
Winner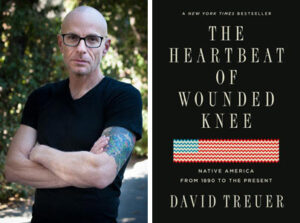 David Treuer, The Heartbeat of Wounded Knee: Native America from 1890 to the Present, Riverhead Books. (Author lives in both on the Leech Lake Reservation, Minnesota, and Los Angeles.) In a joint statement, judges Ted Anton and Pamela Olander wrote: "This is a searing, multilayered, memoir and investigation of one of the least understood massacres in the history of American and Native American relations. Treuer's work is a moving, entertaining and important expose of the heartbeat and heartbreak of Wounded Knee." davidtreuer.net
Honored Books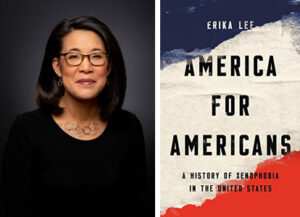 Erika Lee, America for Americans:A History of Xenophobia in the United States, Basic Books. (Author lives in Minnesota.) Judge Jillian McKeown wrote: "Erika Lee has constructed an essential read that teases out the history of xenophobia in the United States and has done so with an eloquent and deft hand." (Author photo by Eric Mueller.) erikalee.org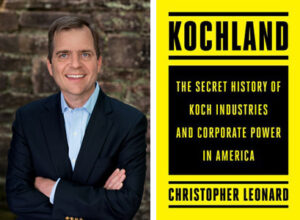 Christopher Leonard, Kochland: The Secret History of Koch Industries and Corporate Power in America, Simon & Schuster. (Author is a University of Missouri graduate and currently lives in Washington, D.C.) Judges Jillian McKeown and Ted Anton wrote: "Leonard has devised an accessible opus on the ills of Koch Industries. This sprawling family saga of fossil fuel, industrial acumen and rapacious audacity is a dazzling display of a writer's mastery of an arcane business topic." (Author photo © Tina Krafts.) christopherleonard.biz
Children's Reading Round Table Award for Children's Nonfiction
Winner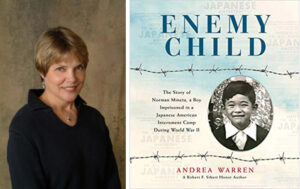 Andrea Warren, Enemy Child: The Story of Norman Mineta, a Boy Imprisoned in a Japanese American Internment Camp During World War II, Margaret Ferguson Books. (Author lives in Lawrence, Kansas.) "Warren's vivid narrative and abundance of high-quality photographs convey a tragic situation from a child's point of view. The author makes readers feel they are sharing Mineta's childhood days with him," the judges wrote in a joint statement. andreawarren.com
Honored Books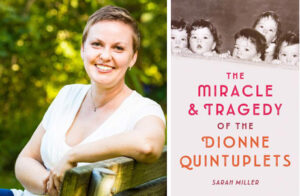 Sarah Miller, The Miracle & Tragedy of the Dionne Quintuplets, Schwartz & Wade Books. (Author lives in Michigan.) The judges wrote, "History comes alive in Miller's enthralling tale of the Dionne Quintuplets. Starting with the quints' 1934 birth in Ontario, readers are pulled into their lives of celebrity and exploitation in this story balanced with poignancy and empathy." sarahmillerbooks.com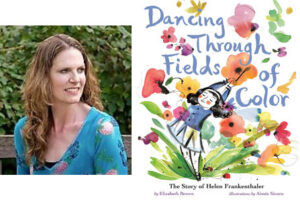 Elizabeth Brown, Dancing Through Fields of Color: The Story of Helen Frankenthaler, Abrams Books for Young Readers. (Author teaches at St. Augustine College, Chicago.) The judges wrote, "Brown brings a remarkable artist to life in this colorful and informative picture-book biography. The pictures pop off the page in lively, colorful style, helping to serve the artistic philosophy of the subject. The explanations of Frankenthaler's paint-pouring techniques will inspire young readers." elizabethmbrown.com
Children's Fiction Award
Winner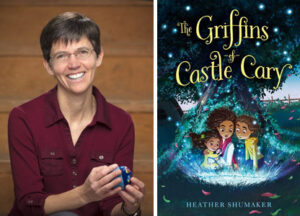 Heather Shumaker, The Griffins of Castle Cary, Simon & Schuster. (Author lives in northern Michigan.) Judges Joyce Zeiss and Melinda Braun wrote, "A beautifully written ghost story filled with mystery and humor. This delightful novel has a fast-paced plot and distinctly drawn characters. It's a perfect book for middle-grade readers." heathershumaker.com
Honored Books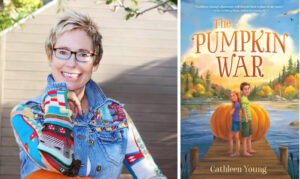 Cathleen Young, The Pumpkin War, Wendy Lamb Books. (Author grew up in Wisconsin.) Judge Melinda Braun wrote, "An unputdownable book! Exceptional writing that jumps off every page. The Pumpkin War is a beautifully composed coming-of-age story." cathleenyoungbooks.com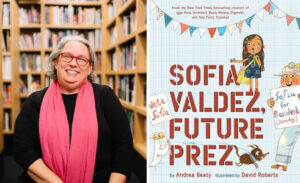 Andrea Beaty, Sofia Valdez, Future Prez, Abrams Books. (Author lives in Chicago.) Judge Joyce Zeiss wrote, "A wonderfully illustrated rhyming picture book, starring Sofi, a real-life go-getter who organizes her community to convert Mt. Trashmore into a city park. This book is for everyone, not just children." andreabeaty.com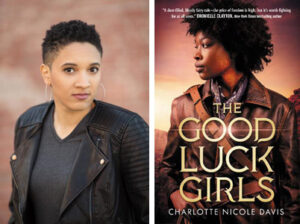 Charlotte Nicole Davis, The Good Luck Girls, Tor Teen. (Author has lived in Overland Park, Kansas.) Judge Melinda Braun wrote: "The Wild West meets Logan's Run meets Uncle Tom's Cabin, The Good Luck Girls deftly combines several genres to create a completely unique story. Well-crafted dialogue and world building move this story along at a quick clip. Ms. Davis has written a wonderful debut novel filled with action, adventure, revenge and redemption." (Author photo © Brett Pruitt.) charlottenicoledavis.com
Poetry Award
Winner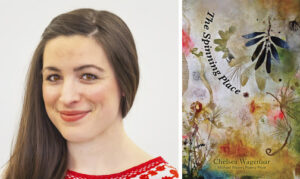 Chelsea Wagenaar, The Spinning Place, Southern Indiana Review Press. (Author lives in Indiana.) Judge George Bilgere wrote: "I'd be hard-pressed to think of a book that explores the relationship of a mother and her child more intelligently, more capaciously, or more beautifully. I love Wagenaar's wide-ranging curiosity and verbal inventiveness." usi.edu/sir/sir-press-authors/chelsea-wagenaar/
Honored Books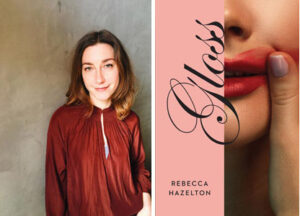 Rebecca Hazelton, Gloss, University of Wisconsin Press. (Studied at the University of Notre Dame, Indiana.) Judge Lisa Fay Coutley wrote: "Gloss had me from line one, poem one, through to the end. It's unabashed, unafraid, funny yet brave (and grave). Hazelton always has command of the language yet breathes new life into the mundane via the imagery, form, syntax, and perspective." rebeccahazelton.com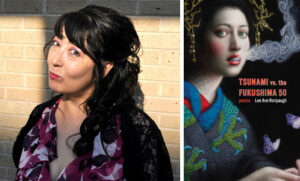 Lee Ann Roripaugh, Tsunami vs. the Fukushima 50, Milkweed Editions. (Author lives in South Dakota.) Judge Marcia Pradzinski wrote: Tsunami vs. the Fukushima 50 is "wonderfully imagined, delightfully weird, deeply disturbing—and, of course, of our times." milkweed.org/author/lee-ann-roripaugh
Bernard J. Brommel Award
for Biography and Memoir
Winner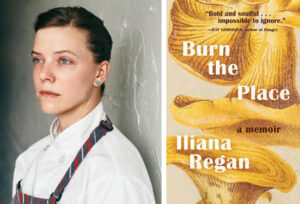 Iliana Regan, Burn the Place: A Memoir, Agate Publishing. (Author lives in Chicago.) Judge Jim Merriner wrote: "An original voice, the kind that stays with you. Each page is an astonishment as the author seeks her sobriety, her identity, her passion as a pioneer chef and entrepreneur, and her life partner." (Author photo © Jeffrey Marini.) agatepublishing.com/titles/burn-the-place
Honored Books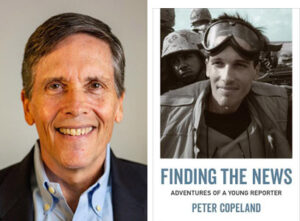 Peter Copeland, Finding the News: Adventures of a Young Reporter, LSU Press. (Author lived and worked in Chicago.) According to Judge Michael Maurer: "The author, an unseasoned war correspondent, takes us to the world's most dangerous venues. His nose for a story and his quest to deliver quality writing in the moment provide a new adventure with every chapter." petercopelandnews.com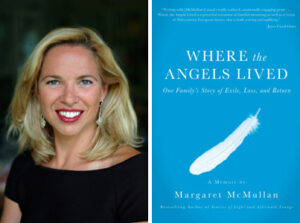 Margaret McMullan, Where the Angels Lived, Calypso Editions. (Author lives in Indiana.) "The author discovers the history of self, a family and a nation that was lost and then arduously found, judge James Merriner wrote. "Her revelations about hidden Jewish lineage in Pécs, Hungary, are heartbreaking and heartwarming at the same time." margaretmcmullan.com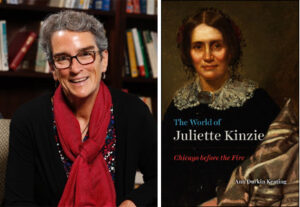 Ann Durkin Keating, The World of Juliette Kinzie: Chicago Before the Fire, University of Chicago Press. (Author teaches in Naperville, Illinois.) Judge Bob Remer wrote: "Well written, objective and deeply researched biography about Juliette Kinzie, Chicago's first author and founding family matriarch during the city's rapid transition from pioneer settlement to emerging commercial hub of the Midwest. Kinzie was an important historical figure whose personal journey didn't always track that of her beloved city. She clung to a community and family unit model not adapting to the much more fast-paced, risk-taking, Chicago that emerged in the latter half of the 19th century." northcentralcollege.edu/profile/adkeating
About the Society of Midland Authors
The Society of Midland Authors was founded in 1915 in Chicago by a group of authors including Hamlin Garland, Harriet Monroe and Vachel Lindsay.
Its annual book awards have been given out since 1957. Notable past winners have included Saul Bellow, Kurt Vonnegut, Studs Terkel, Gwendolyn Brooks, Mike Royko, Jane Smiley, Dempsey Travis, Leon Forrest, William Maxwell, Louise Erdrich, Scott Turow, Alex Kotlowitz, Aleksandar Hemon, Stuart Dybek and Roger Ebert. A complete list of past winners is posted at midlandauthors.com/past-winners/
Awards Judges
This year's winners received a $500 award and a recognition plaque. The coordinator of this year's contest was Marlene Targ Brill. Following are the judges for this year's contest:
Adult Fiction: Lynn Sloan, book author and photographer; Jonis Agee, author of 12 books and winner of multiple awards and grants, and the Adele Hall professor of English and creative writing at the University of Nebraska-Lincoln; and Robert Hellenga, novelist, story writer, essayist and distinguished writer in residence and professor emeritus at Knox College in Galesburg, Illinois.
Adult Nonfiction: Jillian McKeown, head of adult services at the Wilmette Public Library; Ted Anton, author of four books of narrative nonfiction and a nonfiction writing teacher at DePaul University; and Pamela Olander, author of The Disappearance of Frank Meisner and the Allure of the Panama Canal, based on her family history.
Children's Nonfiction: Anne O'Malley, a high school librarian and reviewer of teen and young adult books for Booklist, the American Library Association's review journal; Alice Joseph, a Youth Services librarian at the Wilmette Public Library for over 20 years with 10 years in school libraries; Mary Wisniewski, a columnist for the Chicago Tribune, a regular contributor to WBEZ and a creative writing teacher.
Children's Fiction: Joyce Burns Zeiss, a retired junior high school teacher and author of Out of the Dragon's Mouth, a novel based on the true-life experiences of a Vietnamese boat person; and Melinda Braun, author of the young adult novels Stranded and Avalanche.
Poetry: Lisa Fay Coutley, the author of tether; George Bilgere, author of seven collections of poetry; and Marcia Pradzinski, the author of Left Behind.
Biography and Memoir: Bob Remer, president of the Edgewater Historical Society and Museum and founding publisher of Chicago Books in Review, who was acting commissioner and deputy Commissioner of the Chicago Public Library; Jim Merriner, former political editor of the Chicago Sun-Times, the author of five books about politics and history; and Mickey Maurer, chairman of the board of the National Bank of Indianapolis and IBJ Corporation and its wholly owned subsidiary IBJ Custom Publishing, and the author of six books.